ARSAN HAKKINDA NE DEDİLER?
DAILY NEWS




TURKEY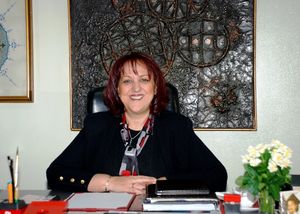 Daily News- Turkey
Turkish entrepreneur shapes the fate of southeastern tourism
In 1986, there was no travel agency in Southeast Turkey, home to one of the world's oldest settlements. However, following in the wake of female entrepreneur Ayşe Nur Yılmazer of Gaziantep, the region now has over 100 agencies
An entrepreneur in the tourism business who opened the first travel agency in Turkey's Southeast in 1986, Ayşe Nur Yılmazer has continued to pioneer tourism projects in the region.
Having graduated from Ankara-based Hacettepe University's Department of Business Administration, Yılmazer has been opening up the region's invaluable historic and cultural wealth to tourism for many years. In so doing, she has also contributed to the revival of the region's economy.
Yılmazer's mother and father are the founders of a tourism association in the southeastern city of Gaziantep.
The lack of a travel agency in Gaziantep, Turkey's sixth largest city and one of the oldest areas of human habitation in the world, convinced Yılmazer, who had enjoyed her tourism classes during her studies, to open an agency after graduating.
Although people warned her there was no "sea or sand tourism opportunity" there, she said: "In 1986, I established Arsan Travel Center, the first travel agency in southeastern Anatolia or Gaziantep. People observed my activities for six years and then other agencies started appearing. Recently, the 45th agency has been established in Gaziantep while the number exceeds 100 in southeastern Anatolia. This makes me utterly happy."
Culture tours
Travel agencies work quite well and create a synergy in the city, according to Yılmazer. "Gaziantep has emerged in the region like a diamond and turned into a product to be promoted with pleasure. I cried when the first five-star hotel was opened five years ago. People used to come for daily visits and return after eating kebab and baklava. But now they wish to stay for at least three nights, including one day for museum visits."
Yılmazer's travel agency is more focused on cultural tours. "Cultural tours constitute the cream of the tourism pie as they yield income for everyone in the region. I attach great importance to the cultural tours. There is an incredible cultural wealth in this region. We have started a double-destination [package]; those coming from abroad first visit southeastern Anatolia and then go to Syria. The United States, Mexico, continental Europe and Japan are among the leading countries from which we draw tourists."
Discovering new markets
Yılmazer said she likes discovering new, unknown markets and product development. "I would like to organize culture tours that highlight the cultural potential of Syria, Lebanon and Jordan. Secondly, I aim to expand cultural tourism to the whole year. Currently, we are launching a program called 'Nostalgic Aleppo,' which will include train travel from Gaziantep to Aleppo."
Commenting on the importance of the Southeastern Anatolia Project, or GAP, for culture and faith tourism, Yılmazer said the region fails to draw enough tourists due to the lack of promotion despite its good accommodation and transportation infrastructure.
Noting that Antalya drew around 8.8 million tourists in 2009, she also said, "We need to reach this figure as well. Tourism is the most significant sector to create income and employment. There is still much to be done." A.A.


önceki sayfa